■The Establishment of the Society, and the Society Today
Fukuoka Airport at Itazuke

Pictures taken in1956 by
Mr. Ronald E. Billet, York, PA
The Japan-America Society of Fukuoka was established in January 1958 with the goals of promoting friendship and mutual understanding between Japan and the United States, and contributing to cultural exchange. The previous year a mission composed of leaders from Kyushu financial circles was dispatched to meet with top management in the United States with the objective of studying management techniques, and this was the direct cause of the establishment of the Society. The document citing the reasons for establishment clearly reveals the times, mentioning the recovery of Japan after World War II and a desire to achieve peace and fully enter the community of nations: it shows the hopes of management in the private sector in search of friendship through interaction with leaders in the United states.



Fukuoka a International Airport
at Itazuke today

Fukuoka today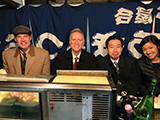 Former US Ambassador
Mr. Thomas Foley

Activities toward improving Japan-US friendship continued in the following years, and in May 1998 the Second Japan-America International Symposium was held in Fukuoka City under the direction of the Society, and with the cooperation of local governments and private enterprises. Over 1500 participants took part, including leaders from both nations, society members and the general public. With active discussions held on a wide range of topics including the economy, national security, problems of the home and youth, and expectations for a volunteer society, the Symposium was a resounding success.

The current Society president is Shigeyuki Takasaki (Chief Director, Nishitetsu Gakuen), and the membership consists of 230 private individuals and 53 corporations. Regular activities include seasonal get-togethers, receptions for important guests on their visits to Fukuoka, lectures, discussions, English conversation classes as well as the acquisition and dissemination of a wide range of information on exchanges between Japan and the US.
■Links between the Society and Other Organizations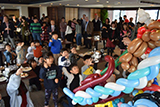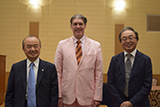 US Ambassador J. Thomas Schieffer and JAS Fukuoka Chairman Tsuguo Nagao

Fukuoka City is home to the American consulate and the Fukuoka American Center. Many of the activities of the Society are hosted in close cooperation with especially these two American offices, as well as with the support of the Fukuoka prefectural and municipal governments, the Kyushu Productivity Center, the Fukuoka Junior Chamber, the International Soroptimist clubs in Fukuoka, the Fukuoka International School and other groups.

There are a total of nine Japan-America societies on Kyushu Island, with the others located in Kitakyushu, Kurume, Nagasaki, Sasebo, Kumamoto, Beppu, Miyakonojo and Kagoshima. Exchange among the various Japan-America societies is also active, not only within Kyushu, but also with those established throughout Japan under the auspices of the Japan-America Society in Tokyo.

In the United States, there are about 35 active Japan-America societies which engage not only in activities within the United States but also in international exchange efforts between America and Japan.
■The Future of the Japan-America Society and the Region
Former US Secretary of
Agriculture Mr. Clayton Yeuter
In recent years a number of e-mail messages from former US servicemen have come to the Japan-America Society of Fukuoka hoping to locate friends they met from their stay at the American military base in Itazuke, searching out family roots or inquiring about student exchange programs. From Japanese correspondents, we receive inquiries about learning English sign language; requests to cooperate in convention hosting; and consultations from corporations.

Although Japan and the United States enjoy a strong bilateral relationship and a global partnership, past trade conflicts and economic competition have generated friction between the two countries. Now how to restructure both economies to meet the challenges of globalization and competition in the 21st century are a major concern. Also questions about the roles and missions of the two allies as well as the constitutionality of Japan's security participation still remain.

While the Japanese feel a strong affinity for the individuality, creative public efforts of U.S. citizens and the diverse cultural make-up of America, political, economic and social frictions stemming from the very closeness of our nations give birth to complex considerations among Japanese when it comes to the United States. The role of the Japan-America Society within this environment is increasingly becoming more important. And today, more than ever, the Society will continue to contribute to improved relations between these two nations through individual friendships and grass-roots level mutual exchange programs, as cited in the founding documents of the Society. At the same time, the Society will maintain and expand activities designed to improve social welfare for the peoples of Asia and the Pacific.

Widespread public recognition of these issues was achieved at the Second Japan-America International Symposium held in Fukuoka in 1998. The Third Japan-America International Symposium, held in September 2001 in San Francisco to commemorate the 50th anniversary of the signing of the peace treaty between Japan and the United States saw these same issues discussed once again with increased depth and meaning.

The world was shaken by the terrorist tragedy of September 11 in the United States, and following that horrible incident the need to maintain a good relationship between America and Japan is more important than ever. Each and every member of the Society can contribute to this goal through thoughts and action. The Japan-America Society of Fukuoka will serve as a center for information as well as a channel to expand and deepen friendship activities between the two nations, together with other organizations in the region. Our Society -a community of friends without borders- hopes to support "the most important bilateral relationship bar none" meet the new challenges of tomorrow.




October 2020
The Japan-America Society of Fukuoka